RELEK Produktion AB, Sweden
manufactures and sells several products for heating purposes / heating fluids:
* Immersion heaters (in Swedish: "Elpatroner")
* Boilers for floor heating (in Swedish: "Elpannor för golvvärme")
* Flow through heaters / Boosters heaters
(in Swedish: "Elkassetter / genomströmningsvärmare")
* Contactors (in Swedish: "Kontaktorer")
* Backup Power Systems, for heating systems (in Swedish: Nödströmsanläggning).


RELEK Produktion AB
has many products in stock and ships promptly.
Founded in 1982, RELEK has over 30 years of experience, supplying products to customers in northern Europe.
The staff is always ready to help the customers.

See more: www.relek.se
(the website in Swedish for RELEK Produktion AB)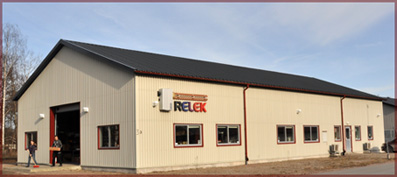 Ask for assistance from:
Linda: accounting / production
Carina: orders and customer support
Ann-Sofie: manufacturing / production
Bert-Ola: CEO, product support
/ customer support


Contact:
RELEK Produktion AB
Terminalvägen 3,
SE - 243 35 Höör
Sweden
mail@relek.se

Phone: (International) +46 - 451 - 620 29
(within Sweden): 0451 - 620 29.